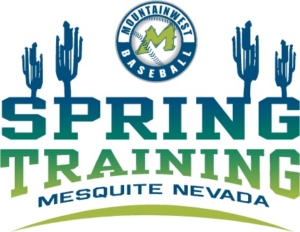 28th Annual Spring Training Presidents' Day Weekend Feb 16 – 19
Spring Training in Mesquite, Nevada is one of the most popular baseball events in the West, hosting over 600 players annually for more than two decades.
Staff: Representing more than a dozen states Instructors from Professional, College and High School baseball as well as the Major League Scouting Bureau and USA Baseball will be on-hand to get a look at one of the largest High School talent showcases in the country. The enormous popularity of this event has MountainWest baseball turning away 100 players a year.  High School participants will receive a tremendous amount of exposure in front of many College Recruiters and Professional Scouts.
Most importantly, Spring Training will remain our top identification event for: USA Baseball, Fall Classic and Perfect Game events and local, regional and national top player lists. At the conclusion of Spring Training, rosters or these seven National events along with our top player list will be announced.
Where do we stay?
Rising Star Sports Ranch (702) 346-5678
What is the Cost?
The basic enrollment fee is $350.00. $275.00 if you sign up before Jan 15th NO Exceptions.